Organization Board Members & Staff
Directors listed by region with links to Tribe website & personal bios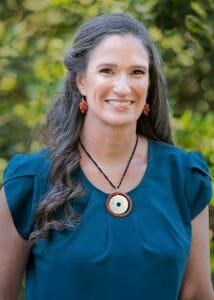 Executive Director: Valerie J. Grussing, PhD
As Executive Director of NATHPO, Valerie is committed to protecting Native places through support, guidance, advocacy, and strengthening partnerships among Tribal Historic Preservation Officers. She enjoys group projects and creating collaborative solutions-focused programming. She is passionate about advocating for and elevating Native interests and voices in revitalizing Native cultures and reclaiming places. Valerie is honored to be part of an ongoing paradigm shift of decolonization grounded in sovereignty, self-determination, reconciliation, and healing.
Valerie holds a BA in History from North Carolina State University, an MA in Anthropology from the University of Iowa, and a PhD in Coastal Resources Management from East Carolina University. Based in Silver Spring, MD, she enjoys making jewelry, chalk art, and calligraphy, and spending time with her husband, young son, and daughter.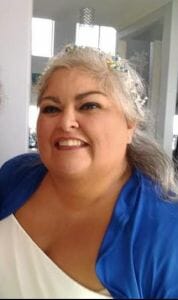 Operations Director: Melissa Madrigal
Melissa Madrigal is committed to bridging the gap between protecting cultural & Native resources and emergency/hazardous response. She has experience in archaeology focused on the southeastern US, underwater archaeology with NOAA's National Marine Sanctuaries, oil spill response & environmental planning, and process hazard analysis. She also has experience with non-profit organizations and has been working with NATHPO on grant reporting and accountability. Melissa is highly invested in helping foster communication between groups and has focused on developing the NATHPO contact database and member management platform. She also helped develop, launch, and maintain the new NATHPO website.
Melissa holds a BS in Anthropology and a BS in Psychology from University of Houston, and ABD Coastal Resources Management PhD from East Carolina University. She and her husband, Stewart, have 3 cats (Rainbow Brite, Bagheera, & Dr. Martin Write) which keep them on their toes! She took up pottery last year and is excited to continue to learn new skills working with clay.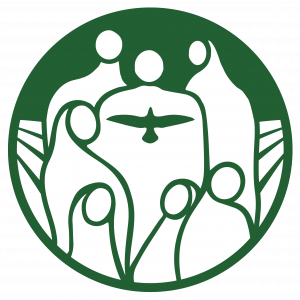 Government Affairs Coordinator: Ted Monoson
Ted Monoson is a Principal in 4th St Communications. He has more than two decades of experience working as a reporter, senior policy aide and senior communications aide. Ted served as the Senior Director of Government Affairs at the National Conference of State Historic Preservation Officers. In this role, he led the successful effort to almost triple Historic Preservation Fund appropriations to $144 million and positioned NCSHPO as the organization that Congressional staff turned to for questions about historic preservation. Ted is a strong proponent of the need to increase diversity in historic preservation, specifically the preservation of Tribal Nations' sacred sites and places associated with the Civil Rights Movement.
As a reporter, Ted covered agriculture, natural resources and energy issues for CQ. He also covered Washington, D.C., for large circulation daily newspapers in the American West, including The Billings Gazette, the Casper Star Tribune and the Missoulian. Ted spent almost five years working for House Speaker John Boehner as an aide focused on agriculture, natural resources and energy issues. He also served as Communications Director for the House Committee on Agriculture.